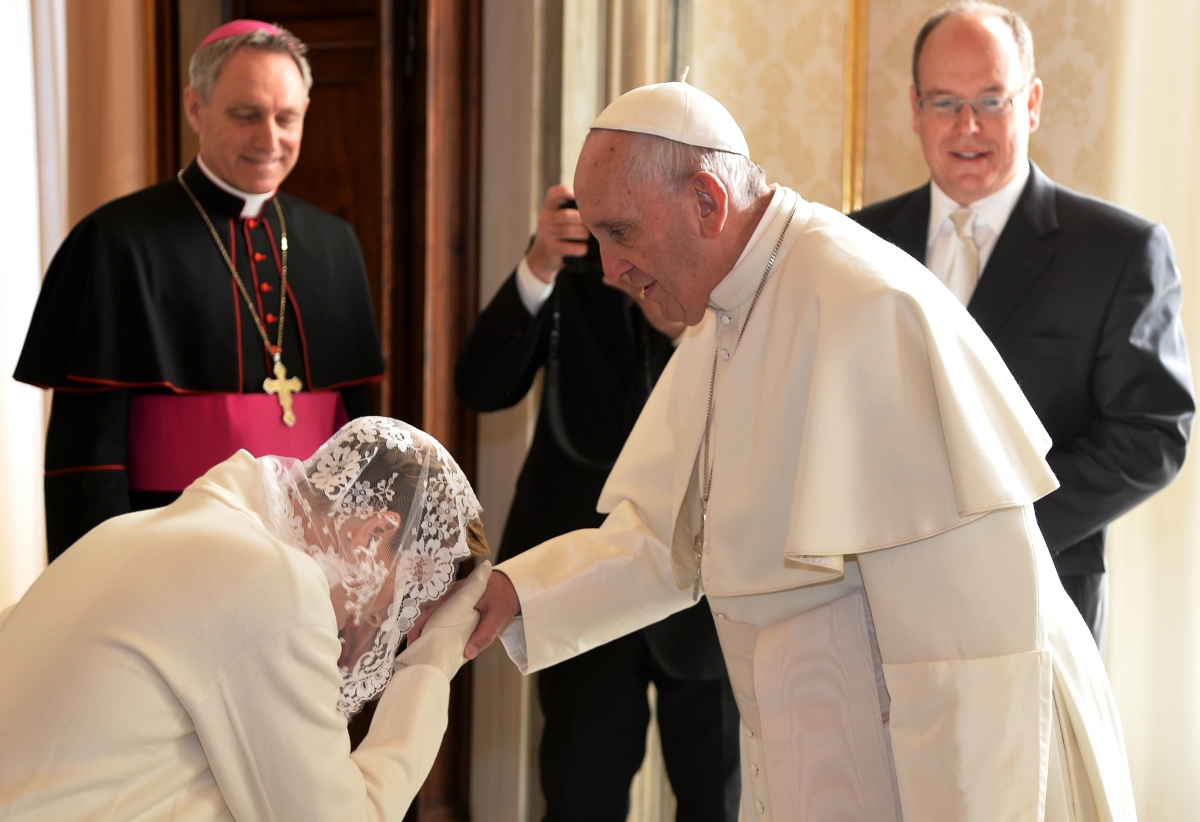 Dear Susan,
Honestly, if I had known as a little girl that there was such a Catholic royalty perk as the Privilege of the White, I might have taken that whole princess phase a little more seriously. Despite what Google will tell you, this has nothing to do with racial issues. The Privilege of the White allows certain Catholic royal women to wear white to important Vatican events such as audiences and special masses when everyone else wears black. You get to color-coordinate with the Pope.
Currently only seven Catholic royal women enjoy the privilege. Talk about an exclusive club. This generation of Catholic queens and princesses is doing things with style.  Princess Grace's daughter-in-law Princess Charlene of Monaco (former swimmer for Zimbabwe) and Queen Letizia of Spain (former news anchor) stand out as the most photogenic. The press made much of Princess Charlene's two Papal meetings in white (in  2013 and earlier this year), threatening to turn the events into Fashion Police: The Vatican Edition. I confess to being fascinated – and to liking the 2013 outfit more. Perhaps even more impressive than her wardrobe is Princess Charlene's devotion to the faith. A convert, she has repeatedly spoken about the strength Catholicism has given her and how it has helped her balance her life as Princess.
I was reminded of one of my favorite pictures from the nineties of two other women in white: Mother Teresa and Princess Diana coming out of a mission in the Bronx. Ironically, Mother Teresa started wearing white so she would blend in with the common people, not to stand out from them. The contrast in the photo is striking but evidently the two women shared a special relationship until their deaths five days apart. Coincidence? (More on our friend Sharon's theory of the Curse of August another time. Suffice it to say, 40th birthday = Hurricane Katrina). For our generation, Princess Diana was the ultimate modern princess and Mother Teresa was the ultimate modern saint. While Diana's personal struggles were very public, Mother Teresa's struggles did not come out until after her death, in her letters.  Her sense of separation from God, even as she continued her extraordinary ministry and encouraged others to seek Him is an incredible testament to her belief, courage and inner strength. I believe Mother Teresa's suffering was another "privilege" of the white, a white martyrdom, the total offering of suffering to God that is without blood or a violent death.
Let me back up and say that, as a child, the whole sainthood idea did not hold much appeal for me because it seemed that every saint either died in a very nasty way (red martyrdom) or lived in a cave. While the cave very much appeals to me now, the dying in nasty ways thing does not. As I get older, though, I realize there are not that many ways to go that appeal to me.  I am guessing assumption is out. As we are all called to be saints, I think most of us may be called to a white martyrdom, whether it be through physical, spiritual or mental ailments.  A great example can be found in the life of Saint John Paul II, whose athletic body was taken over by crippling ailments during his time as Pope.
Raymond Arroyo's moving  Mother Angelica: Her Grand Silence shows us yet another white martyrdom. A nun who founded a TV station and was known for her communications skills spent the last twelve years of her life in her cell and unable to speak for the most part.  She viewed it as a time of purification, a purgatory on earth. "The more silent we become, the closer we are getting to God." "Be still and know," the Psalm says and it is the perfect message for a contemplative nun. Showing the profound spiritual impact of such suffering has given me comfort and understanding of my own mother's struggle with stroke-related dementia.  Why didn't God release her from this gradual descent into suffering? This quote from one of Mother Angelica's caretakers answered a lot of questions:
'She's very obedient to the Lord's will… Even this: more than a decade of suffering in bed, this heavy cross.  She taught me how to accept the cross and suffer. Sometimes she still complains but that is human nature.  This is a time for me to help Mother, when she needs me.  It's a way for me to repay her the gift she has given me.'
I used to get so annoyed when I was suffering some trial or another and someone would tritely chirp "Offer it up." Now I see that is exactly what I should do. I know I should use that opportunity to draw closer to God, but I don't know that I will ever grow enough to see the privilege in suffering the way Mother Angelica did.  I should also realize that my trials do not exist in a vacuum; they can be opportunities for others to grow. We and our struggles have worth.  Maybe we women should all consider ourselves as sharing a privilege of the white. After all, we are daughters of the King. Doesn't that make us princesses?
See you around the castle,
Anne
YNJ's first giveaway! Make sure we have your email address subscribed to our blog in order to win this beautiful coozie (above) from Buc-ees. My husband said it was for deer hunting, but I am pretty sure Psalms can go anywhere. Did you hear the eye roll? Oh, and, it may have something to do with this blog post! Can it get any better? The winning email will be picked on Friday!